MFI, ARM, and Catalyst Connection celebrate National Manufacturing Day 2020
Sherry Stokes
Oct 2, 2020
To highlight the state of manufacturing and career opportunities in the U.S. and southwestern Pennsylvania, Carnegie Mellon University's Manufacturing Futures Initiative (MFI), Advanced Robotics for Manufacturing Institute (ARM), and Catalyst Connection celebrated National Manufacturing Day 2020. 
The groups partnered to offer STEM programming to Pittsburgh-area high school students, and on October 2, 2020, they hosted a virtual panel discussion on careers in manufacturing and robotics. Linda Wood, senior certification manager at ARM, led the talk featuring local representatives from the manufacturing, robotics, and academic communities.
Additive manufacturing is a cutting edge technology, which means there are many opportunities to improve the technology and apply it in novel ways.

Scott Santoro, Senior, Materials Science and Engineering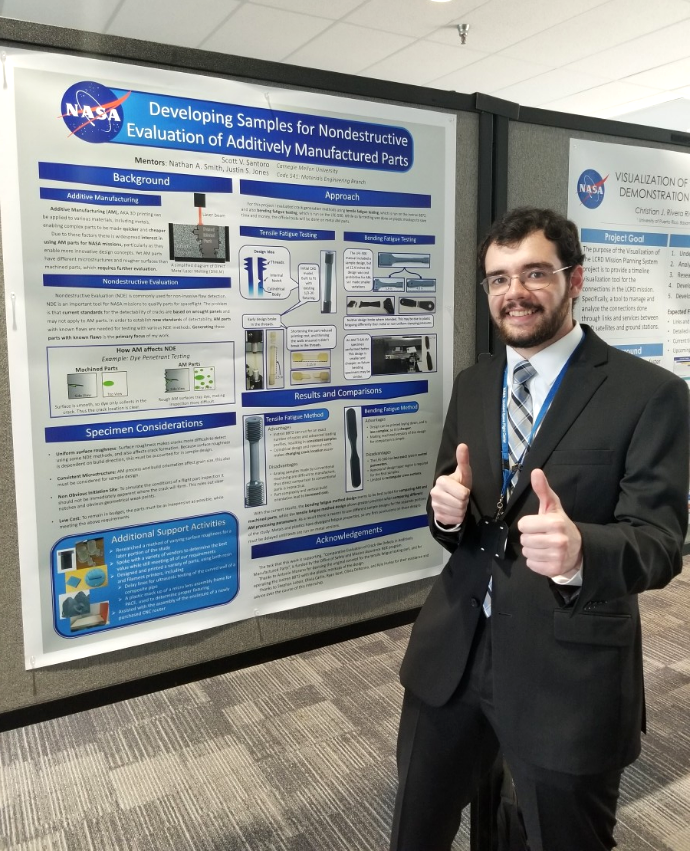 Materials Science and Engineering senior, Scott Santoro, participated on the panel. Santoro, who is minoring in additive manufacturing, hopes to apply his skills in the aerospace industry after graduation. Driven by a desire to build things, he studied material science because in manufacturing a lot of challenges hinge on problems with materials. Also featured on the panel was Mechanical Engineering alum Oliver Liburd, (MechE '19) an engineer at Premier Automation. He outlined the variety of tasks he routinely faces on the job. Rounding out the panel were Andre Swain, a machinist at Re2 Robotics, and Melissa Cushey, a human resources recruiter at Oberg Industries. Together, the panel members provided insight into the types of jobs available in manufacturing and robotics, and paths for obtaining these jobs. 
"My advice to high school students thinking about a career in manufacturing is to get involved early. If a professor at your college is doing research related to the industry you want to get involved in, see if you can assist that research group," says Santoro. "Join a professional society related to the field, and get involved in events relating to the industry. These sort of events are where you make the connections that will help you later on when you are looking for jobs and internships."
To guide high school students further, a Manufacturing Day page provides resources on manufacturing training programs, careers, and other topics that can help young adults discover rewarding jobs.