Researchers donate equipment to Allegheny County Health Department
Michael Henninger
Mar 23, 2020
Keith Cook drove up to the Allegheny County Emergency Services building on March 20 barely able to see out of his rearview mirror. His passenger seat, rear seats and trunk were packed with unused personal protective equipment, or PPE, collected from various labs in Carnegie Mellon University's College of Engineering.
Cook, a professor of biomedical engineering and director of the Bioengineered Organs Initiative, is among the CMU researchers who, upon learning their labs were required to temporarily close in the ongoing effort to stop the spread of COVID-19, sought to donate their PPE to health care workers on the front-lines of the fight against the new coronavirus.
Angela Lai, one of Cook's postdoctoral fellows, helped pack up Cook's car in the loading dock outside of Scott Hall. Lai was instrumental in organizing the donations from the departments of Biomedical Engineering, Mechanical Engineering, and Chemical Engineering. The donation totaled 621 items, including 244 boxes of gloves and 160 N95 masks from 14 different research groups.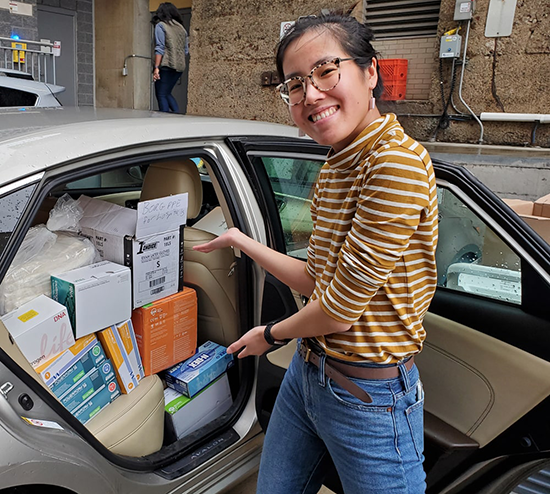 "We knew our labs were going to shut down. Students in the lab were urging us to donate PPE. My students are a bunch of do-gooders. That's why they're in biomedical engineering," Cook said.
"Personal protection equipment will always be in demand throughout this crisis," said Chief Matt Brown, director of Allegheny County Emergency Services. "We are grateful to Carnegie Mellon University for this donation, and appreciate how everyone is coming together to support these needs as we respond to the COVID-19 pandemic."
A Common Goal
In the midst of moving CMU's flagship campus' functions online and launching remote instruction, an interdepartmental effort formed to give researchers the opportunity to donate PPE to the Allegheny County Health Department (ACHD). The core efforts occurred jointly between researchers and members of Carnegie Mellon's Emergency Operations Center (EOC).
During emergencies, the university EOC has traditionally been a physical location where emergency management teams convene with representatives from various university departments to respond to incidents or planned events. Now, the EOC is run nearly completely virtually, with departments across campus able to check in at a moment's notice.
CMU's push to donate PPE started in multiple places. Beth Kotarski, the executive director of University Health Services, initially received a request for gear from ACHD. She turned to Maureen Dasey-Morales, CMU's associate vice president for community health and well-being. Morales then shared the request with the EOC on March 19.
"Sharing that request with the EOC really put the spark in peoples' minds," Dasey-Morales said. "The EOC provided the infrastructure. In this kind of emergency, you can't have everybody in one room. You want people separate so they can stay well enough to do their work."
At the same time, researchers were contacting their departments and the Office of the Vice President for Research asking if there was a way to donate unused PPE.
"The CMU research community is always at the leading edge and working to benefit society," said J. Michael McQuade, Carnegie Mellon's vice president for research. "It was great, but not surprising, to learn that researchers wanted a way to help the broader Pittsburgh area in preparing for COVID-19 by donating unused PPE."
With Melanie Lucht, associate vice president and chief risk officer of Enterprise Risk Management Services, directing the EOC, a plan came together allowing researchers temporary access to their labs to gather PPE for donation. Donations were collected at the Carnegie Mellon Police Department.
Steve Guenther, a university engineer and assistant vice president of Facilities Management and Campus Services, arranged for a driver from his division to make the delivery to ACHD.
Donation Day
A steady stream of donations for the ACHD came in to university police on March 22.
Stephanie Tristam-Nagle, a research professor in the Department of Physics dropped off six boxes of neoprene gloves, 15 eye goggles, and 14 masks. Josh Kangas, an assistant teaching professor in the Computational Biology Department of the School of Computer Science, donated a box of gloves and two cases of 10-12 disposable lab coats.
Marcel P. Bruchez, a professor of biological sciences and chemistry in the Mellon College of Science and director of the Molecular Biosensor and Imaging Center, was able to donate 1,600 pairs of gloves from his lab.
"It's been great to see the university faculty make sure the PPE we have go to a place where it can have the greatest impact," Bruchez said. "Idle resources sitting on a shelf aren't helping anyone."