X-Ray Laboratory Opens in Materials Characterization Facility
Monica Cooney
Apr 3, 2023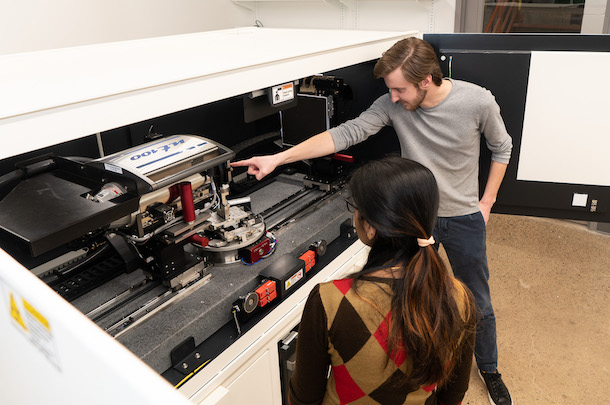 The Materials Characterization Facility (MCF) at Carnegie Mellon recently expanded its footprint to the second floor of Hamerschlag Hall with the addition of a new X-Ray laboratory. Officially open for faculty and student use in January 2023, the space formerly housed the Claire and John Bertucci Nanotechnology Laboratory, now located in Scott Hall.
The MCF X-Ray lab includes two new pieces of equipment, the Xenocs Xeuss 3.0 SAXS instrument and ZEISS Xradia Crystal CT®, as well as three X-ray Diffractometers that had previously been situated on the first floor of Roberts Hall.  As the MCF marks 25 years at Carnegie Mellon, the addition of this equipment and updated space allow for further opportunities for partnerships across disciplines and with industry partners. 
"This collaborative model, which has been very successful at attracting users from local industry and research labs, will continue to have an impact as it makes advanced X-ray characterization capabilities available in Western Pennsylvania," said MCF Faculty Director, Marc DeGraef.
This collaborative model will continue to have an impact, as it makes advanced X-ray characterization capabilities available in Western Pennsylvania.

Marc DeGraef, MCF Faculty Director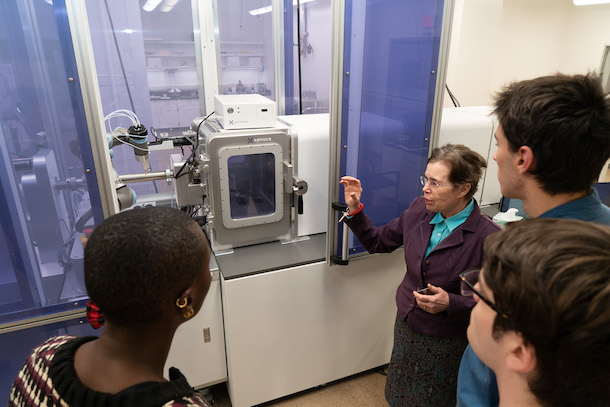 The road that led to the opening of the space was a long and winding one, as plans were initiated in the Summer of 2017, and then stalled and slowed by COVID-19 shut downs and supply chain issues.
In hindsight, the delays were a blessing in disguise in some ways, particularly as the lab secured a more updated version of the Small-angle X-ray Scattering (SAXS) machine that was initially intended for this space. The Xenocs Xeuss 3.0 is the most state-of-the-art machine of its kind, offering a maximum flexibility of measurement configurations in order to secure optimal data quality on any type of sample.
"The new SAXS instrument in the MCF will open research opportunities in many fields where crystals, solids, powders, gels and fluid samples will be analyzed," noted physics department Professor Tristram-Nagle. "Since the detector moves on a track inside the instrument, we can easily study samples as large as microns and as small as a few Angstroms. This will save a huge amount of time for researchers to obtain quality data quickly, and under vacuum."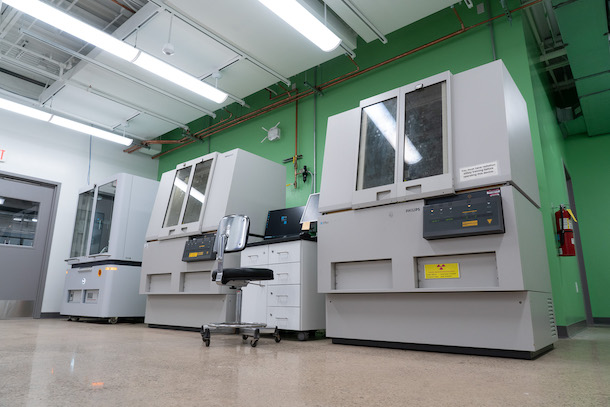 The Xeuss SAXS 3.0 boasts automation capabilities that include robotic sample handling for high-throughput data acquisition in solution studies and the ability to utilize remote operation. Additionally, multiple sample holder options are available for powders, solids and gels as well as a multi-refillable capillary holder with temperature control (10°C to 80°C). 
In addition to offering conventional micro Computer Tomography (CT), the ZEISS Xradia CrystalCT® is a crystallographic imaging system that can transform the way polycrystalline materials, such as metals, alloys, and ceramics can be studied, as it can map larger volumes and a wider variety of sample geometries at higher throughput.  The computed tomography platform uniquely augments this powerful imaging technique with the ability to reveal crystallographic grain microstructures.
"Researchers can see the internal structure of materials non-destructively with the CrystalCT system," said Betsy Clark, the MCF Managing Director.  "They can perform an experiment, for instance a heat treatment, and then come back to the instrument to see how the microstructure changed by a simple direct comparison."
The additions of the new equipment were made possible in part due to grant funding including:
Army Research Laboratory, Cooperative Agreement Number W911NF-20-2-0175
Air Force Office of Scientific Research, DURIP award number FA9550-22-1-0068
NSF MRI Award Number 2117523 
For more information on access and training opportunities in the X-ray lab, contact Betsy Clark.