The STEM initiative seeks to help students make the real-world connection between science, technology, engineering, and math. Good and meaningful jobs await in STEM-related fields, but it is a tough concept to share with K-12 students. We first encourage students to consider STEM fields, and in particular engineering, as a choice for education beyond high school. Good career options await, but additional education is the next step after high school.
In the College of Engineering, faculty and students prepare and implement programs for K-12 students who are interested in first-hand—and hands-on—exposure to the field of engineering. We are interested in creating the next generation of engineers and would like to help K-12 teachers find the resources that you need to introduce the concepts of engineering to your students.
Each spring, the Engineering Research Accelerator hosts Moving 4th Into Engineering, an engineering outreach event. Approximately 30 fourth-grade students from various Pittsburgh area schools are invited to visit Carnegie Mellon's campus and participate in a full day of engineering activities. This program provides the students with an interactive introduction to the exciting world of engineering and exposes them to fun and educational, hands-on activities geared toward their age and ability level. Through various experiments and exercises, students learn how engineering plays a part in many of the ordinary things they see every day.
Contact: Kelly McQuoid
Strong Women, Strong Girls is a group-based mentoring program that uses the study of contemporary women role models, mentoring relationships between college-aged women and girls in grades three to five and activities focused on skill-building to help enhance the lives of at-risk girls. Through building positive self-esteem and skills for life-long success, Strong Women, Strong Girls is working to strengthen the futures of all women and girls involved in the program. Approximately 25 women at Carnegie Mellon serve as mentors for more than 70 girls in the Pittsburgh area. Carnegie Mellon partners with five different local elementary schools and community centers as programming sites. Each week, smaller teams of mentors travel to the sites to engage and work with the girls.
Email: swsgcmu@gmail.com

Phone: 412.268.2142
Everyday Engineering (MS)
Examples of engineering are all around you? It's true! There are engineers behind your sporting equipment, electronics, furniture, clothing, food, and on and on. Participants in grades 6 through 8 will think about their environment with a more curious eye, looking at everyday items and asking themselves:
What problem does this solve?
Who has the problem?
Why is it important to solve the problem?
What types of engineering were used to solve the problem?
The event includes a presentation and a series of exhibits for the students to visit at their own pace where they can interact with CMU engineering students to learn more about the objects on display. There is also a hands-on activity.
A parent or guardian must accompany minor children at all times during the event. Only children in grades 6 through 8 are eligible to attend. Please eat lunch before arriving as food will not be provided.
Contact: Kelly McQuoid
The Summer Engineering Experience (SEE) is a two-week summer experience for students entering the 8th and 9th grades who are interested in math and science. SEE gives students hands-on experience in different forms of engineering. The theme of SEE is "Energy," and students have an opportunity to learn about different forms of energy that are efficient and environmentally friendly. They explore forms of energy that interest them and learn how they can make a difference through engineering.
SEE is open to eligible middle school students of any gender. SEE does not discriminate on the basis of race, color, national origin, sex, handicap or disability, age, sexual orientation, gender identity, religion, creed, ancestry, belief, veteran status, or genetic information.
Contact: Kelly McQuoid
Society of Women Engineers (SWE) High School Day and Middle School Day (MS, HS)
High School and Middle School Day is an annual event in which the Society of Women Engineers (SWE) invites approximately 250 Pittsburgh middle and high school girls to CMU's campus. It is one of SWE's largest outreach events and collaborates with CMU professors and students from various campus organizations. The girls are able to participate in activities related to electrical, mechanical, civil, biomedical, material science and chemical engineering. The event aims to help young girls get a better idea of what engineering entails and offers them guidance and advice for pursuing engineering, while allowing CMU students and faculty to share their knowledge and passion for engineering and inspire young women.
Contact: Nisha Shukla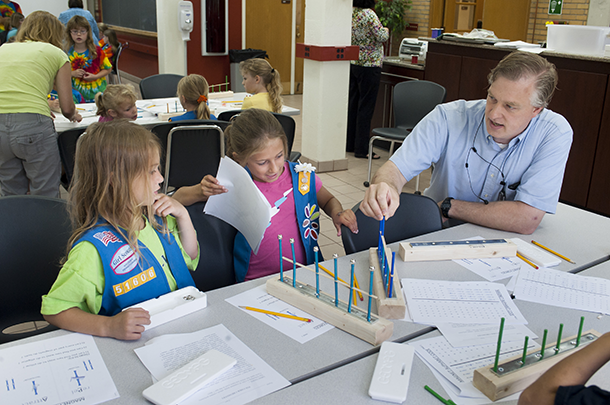 Held annually, SUCCEED consists of two pilot programs: a two-day workshop to improve teacher curricula and a free five-day summer school targeting students entering 10th grade. In conjunction with the National Science Foundation's Climate and Energy Decision Making Center, we have adapted the SUCCEED curricula into K-12 lesson plans on climate, energy, and environment meeting Pennsylvania standards.
Contact: Parth Vaishnav
AIU Apprenticeship "Engineering @ CMU" Program (HS)
Students from the Allegheny Intermediate Unit participating in its Apprenticeship Program have the opportunity to explore different areas of engineering at Carnegie Mellon University, which include civil, chemical, electrical and computer, engineering and public policy, environmental, materials science, and mechanical. Students will tour labs and see the cutting-edge technology that is being developed by faculty and students, and they will also have an opportunity to engage in hands-on experiments related to the research being done on campus.
Contact: Kelly McQuoid
This one-week program introduces rising 10th and 11th graders to engineering–showing them what it is like to study engineering in college and what careers it can lead to. Students will get hands-on experience using engineering software to design products and then fabricate them in a CMU makerspace. Students will also learn about different engineering disciplines through daily presentations and tours of CMU engineering labs.
See www.cmuengineeringworkshop.org for additional information.
SPARK Saturdays is a Saturday workshop series created by volunteers studying Electrical and Computer Engineering at Carnegie Mellon University that aims to introduce beginners to concepts about electrical and computer engineering and expose them to engineering as a potential career choice. Topics include, but are not limited to, Mechanical Logic, Programming, Smart Light, and Radio Building. Applicants must be high school students, able to attend all sessions, and be able to pay a fee of $5 to reserve space in the program. Registrations are submitted by August each year.
Because of limited space (40 spaces), students will be admitted on a first-come-first-serve basis. We also ask that you please only register your child if they have had experience with no more than one of the following topics: computer programming, boolean logic, breadboarding, and making simple circuits.
See http://eceoutreach.ece.cmu.edu/index.html for additional information.