Throughout the year, Carnegie Mellon University's College of Engineering offers a variety of programs for K-12 students to excite them about and engage them in STEM. Our programs are designed to be interactive and fun learning experiences that provide opportunities for K-12 students to not only learn about engineering but also develop age-appropriate critical thinking, problem solving, and design skills. All of our programs are free. We offer in-person programs, as well as offer a variety of virtual programs, so that students from all over the region and beyond can participate.
For more information on K-12 STEM programs offered by the Carnegie Mellon University College of Engineering, please contact Rita Canton, Director of Engineering Outreach.
Programs offered at your facility or school
Engineering Ambassadors Network
The Engineering Ambassadors (EAs) are talented undergraduate students from the College of Engineering. They are trained extensively in communication and leadership skills, which they use for outreach to the K-12 community throughout the Greater Pittsburgh Area. Engineering Ambassador visits to schools and out-of-school programs consist of interactive, engaging, presentations on an engineering topic paired with hands-on (or virtual) activities and are delivered in a variety of fashions to learners in K-12 educational environments. We seek to share the impact of engineering on the health, happiness, and safety of our world, as well as inspire youth with the amazing opportunities engineering offers.
K-12 educators can email Rita Canton to schedule site visits.
Virtual and on-campus programs
Explore Engineering Expo (ES, MS)
The Explore Engineering Expo, hosted by CMU's Engineering Ambassadors, is an in-person experience held on CMU's Pittsburgh campus in the spring. This interactive event features engineering demos and activities for students in grades 3 through 8.
The focus of the expo in Spring 2022 was focused on the environment. Attendees learned about clean water, bioremediation, recycling, self-watering gardens, the importance of pH, and even how certain fruits and vegetables can conduct electricity. During the expo, attendees had an opportunity to interact with CMU engineering students in small groups to learn about these topics and to ask questions, allowing participants to be fully engaged in each demo.
Contact: Rita Canton
Moving 4th Into Engineering (ES)
The College of Engineering hosts Moving 4th Into Engineering for fourth graders during the Fall semester. These virtual sessions are designed to get 4th graders excited about Engineering concepts.
Over the course of four weeks, groups of 4th grade students will work with undergraduates from CMU's College of Engineering to learn about the variety of engineering principles that go into the process of building Rube Goldberg machines. These machines will be constructed using an assortment of household items in conjunction with some supplies that will be provided in mailed kits. All attendees will build their machines at home during the first three virtual sessions, with the final week being reserved for a celebration of everyone's hard work, featuring videos of the homemade Rube Goldberg machines in action.
Contact: Rita Canton
Destination: Innovation (ES)
In this virtual program during the Spring semester, 5th grade students are presented with several fictional scenarios for which they will need to collaborate with their CMU team leaders and each other to generate solutions that will help improve communities with varying demographics, environments, and resources using the engineering design process.
At the end of the program, groups will present their solutions to a panel of judges from the CMU academic community.
Contact: Rita Canton
Strong Women, Strong Girls is a group-based mentoring program that uses the study of contemporary women role models, mentoring relationships between college-aged women and girls in grades three to five and activities focused on skill-building to help enhance the lives of at-risk girls. Through building positive self-esteem and skills for life-long success, Strong Women, Strong Girls is working to strengthen the futures of all women and girls involved in the program. Approximately 25 women at Carnegie Mellon serve as mentors for more than 70 girls in the Pittsburgh area. Carnegie Mellon partners with five different local elementary schools and community centers as programming sites. Each week, smaller teams of mentors travel to the sites to engage and work with the girls.
Email: swsgcmu@gmail.com

Phone: 412.268.2142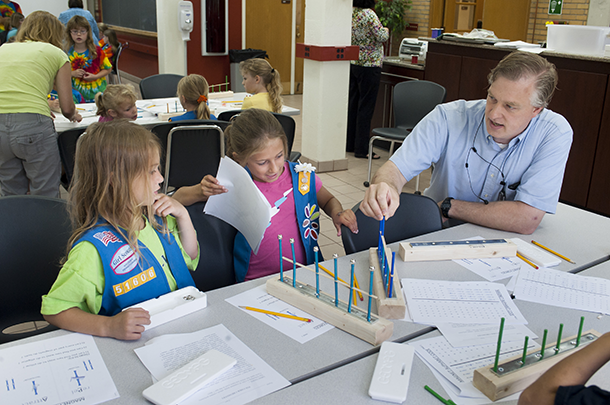 Everyday Engineering (MS)
Everyday Engineering is a Spring semester virtual event for students in 6th – 8th grades with the intent to demonstrate that engineering is all around us. Our goal is to get middle school students thinking about their environments with more curious eyes. We want them to look at everyday items from sporting equipment to food to electronics to furniture and beyond and ask themselves:
"What problem does this solve?"
"Who has the problem?"
"Why is it important to solve the problem?"
"What types of engineering were used to solve the problem?"
The event includes a presentation that introduces them to various engineering disciplines through recognizable examples, as well as a series of exhibits for the students to visit where they can interact with CMU engineering students to learn more about the objects on display and the engineering concepts that go into them.
Contact: Rita Canton
SEE: Summer Engineering Experience (MS, HS)
The Summer Engineering Experience (SEE) is a week-long summer experience for rising 8th through 11th graders who are interested in math and science. SEE gives students hands-on experience in different forms of engineering.
The 2023 schedule is as follows:
Session 1
Dates: July 10-14, 2023
Student grade: Rising 8th and 9th graders
Theme: Making & Engineering
The focus of this session is to expose the students to different engineering disciplines and the concept of design. In addition to educational presentations throughout the week, students will complete two projects primarily utilizing items readily available in their households. The first project is a structured assignment that will be completed by the entire group throughout the week. The second is a project that will be completed individually, working within smaller groups, that allows the students to be innovative and creative. Both projects teach the students problem-solving, critical thinking, and design concepts.
Session 2
Dates: July 24-28, 2023
Student grade: Rising 10th and 11th Graders
Theme: Biomedical Engineering
Biomedical Engineering is one of the more recent disciplines of engineering. Through academic presentations and interactive project work, students will learn about the intricacies and considerations that go into solving medical issues by applying engineering principles to biology and medicine, exploring interdisciplinary engineering concepts such as biomechanics, bioinstrumentation systems, circuit elements, stem cell and tissue engineering, robotics and 3-D bioprinting. 
Residential housing is NOT available during SEE. For this reason, we encourage applications from students who live within daily commuting distance of CMU's campus. If your child is interested in submitting and application and you do not live in the area, please be aware that if your child is accepted, you are responsible for providing all housing accommodations and daily travel arrangements. All applicants must be able to commit to attending every day of the program from 9:00 am – 3:00 pm.
Applications will be sent mid-March. Completed applications and required accompanying materials will need to be returned by April 14, 2023. Applicants will be notified by May 6 if they have been accepted into the program. If you are interested in receiving application materials, please contact Rita Canton.
Society of Women Engineers (SWE) High School Day and Middle School Day (MS, HS)
High School and Middle School Day is an annual event in which the Society of Women Engineers (SWE) invites approximately 250 Pittsburgh middle and high school girls to CMU's campus. It is one of SWE's largest outreach events and collaborates with CMU professors and students from various campus organizations. The girls are able to participate in activities related to electrical, mechanical, civil, biomedical, material science and chemical engineering. The event aims to help young girls get a better idea of what engineering entails and offers them guidance and advice for pursuing engineering, while allowing CMU students and faculty to share their knowledge and passion for engineering and inspire young women.
Contact: Nisha Shukla
The Summer Center for Climate, Energy, and Environmental Decision Making was founded in 2011 by Carnegie Mellon University's Center for Climate and Energy Decision Making. SUCCEED includes two programs: a free five-day summer program for rising 10th and 11th graders and a two-day workshop for teachers. The summer program for students complements what students learn about energy, climate change, and the environment in school. The teacher workshop helps teachers incorporate information about energy and climate change into their curricula while earning professional development credit.
Contact: succeed-program@lists.andrew.cmu.edu
This one-week program introduces rising 10th and 11th graders to engineering–showing them what it is like to study engineering in college and what careers it can lead to. Students will get hands-on experience using engineering software to design products and then fabricate them in a CMU makerspace. Students will also learn about different engineering disciplines through daily presentations and tours of CMU engineering labs.
Note: This program will not run in 2022 but will resume in 2023.
See www.cmuengineeringworkshop.org for additional information.
Be an Engineer (HS)
Are you a high school student who is interested in pursuing a future in engineering? Do you want to learn more about it? Then join us at Be an Engineer! This Fall semester program designed especially for students in 9th through 12th grades comprises an overview of Engineering at CMU, a panel discussion and Q&A with CMU Engineering students, and lab tours with current students who are involved in co-curricular organizations and activities. Come get a first-hand look at a variety of engineering disciplines at Carnegie Mellon University's College of Engineering.
Contact: Rita Canton
SPARK Saturdays is a Saturday workshop series created by volunteers studying electrical and computer engineering at Carnegie Mellon University that aims to introduce beginners to concepts about electrical and computer engineering and expose them to engineering as a potential career choice. Topics include, but are not limited to, digital logic, programming, smart light, and radio building. Applicants must be high school students who are able to attend all sessions. Registrations are submitted by August each year.
Because of limited space (40 spaces), students will be admitted on a first-come-first-serve basis.
See http://eceoutreach.ece.cmu.edu/index.html for additional information.
Career Exploration Series (HS)
The CMU College of Engineering Career Exploration Series offers virtual assembly-style programs for high school students that can serve as entry points into specific engineering career fields through panel discussions and Q&A with CMU faculty, staff, students, alumni, and corporate partners. Each session will focus on a different engineering topic. Sessions are held throughout the school year.
If you or your class is interested in participating, please email Rita Canton.