FluidForm is Fast Co. World Changing Ideas Award finalist
Daniel Carroll
May 28, 2020
Carnegie Mellon University spinout company FluidForm, co-founded by CTO and Biomedical Engineering Professor Adam Feinberg, was named a finalist for Fast Company's 2020 World Changing Ideas Award. The company was featured in the experimental category for its Freeform Reversible Embedding of Suspended Hydrogels (FRESH) 3D bioprinting technology.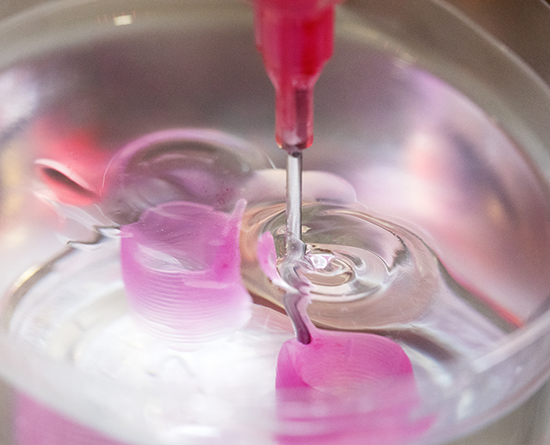 Part of Carnegie Mellon's Bioengineered Organs Initiative, Feinberg's lab first developed FRESH bioprinting in 2015 and recently published a major advance focused on rebuilding the human heart in Science. Other bioprinting techniques require users to sacrifice either mechanical properties or build resolution, due to the tendency for soft bioprinting inks to deform. However the FRESH technique is able to achieve unparalleled resolution without altering material properties. To do this, they created a novel support gel that they actually print inside of to create complex 3D structures using cells and special bioinks. After curing is complete, the support gel simply melts away at body temperature, leaving only the high-resolution print behind.
FluidForm was created in 2018 and occupies a novel space in the bioprinting industry. While there are many companies that market bioprinters and bioinks, FluidForm's position creating gel support materials is unique because it makes each function better. This has allowed the company to partner with both areas within the bioprinting industry. One of the most exciting emerging areas is 3D bioprinting of collagen, where FluidForm's FRESH technology is the world leader.
At the moment, they're working to leverage the technology for surgical modeling and planning. Models printed using collagen, the most abundant protein in the body, provide a much better analog for human tissue than the plastic models that surgeons currently use for practicing and planning procedures. Feinberg and FluidForm are working to create a clinical grade system for producing surgical models that any large hospital could have on hand. Feinberg says, "with our models, they deform, they cut, and they suture like the real thing."
Eventually they plan to be able to 3D print collagen scaffolds without cells for use as medical devices like collagen heart valves, or scaffolds designed to accelerate and improve tissue regeneration in the human body. These are important milestones that will have major societal impact and FluidForm is investing in this future through the development of clinical-grade bioprinting solutions.  
"Ultimately the vision is to move towards 3D printed cellularized tissues for organ repair and organ replacement," says Feinberg. "That's a very long-term goal that won't happen this decade, but we hope that this technology serves as the foundation for that." 
FluidForm co-founders T.J. Hinton and Andrew Lee are also former Ph.D. students in Feinberg's lab, and co-founder Andrew Hudson is a current Ph.D. student in the lab.