Under 40, unlimited innovation
Reeja Jayan and Venkat Viswanathan were awarded 40 Under 40 Award from Pittsburgh Magazine and PUMP.
Carnegie Mellon University and Pittsburgh are places where people use their hearts and minds to create meaningful work. That's why Pittsburgh Magazine and the Pittsburgh Urban Magnet Project (PUMP) have recognized Mechanical Engineering Professors Reeja Jayan and Venkat Viswanathan in the 19th Annual 40 Under 40 Awards for their "creativity, vision, and passion that enrich the Pittsburgh region."
Assistant Professor Venkat Viswanathan joined the mechanical engineering faculty at Carnegie Mellon in 2014. A dynamic contributor to the scientific community, he won a National Science Foundation CAREER award in 2016 to study engineering electrode-electrolyte interfaces for improved performance in lithium-air batteries and fuel cell electrocatalysis. As head of the Electrochemical Devices Lab, Viswanathan studies how to create more powerful and longer-lasting batteries for use in vehicles.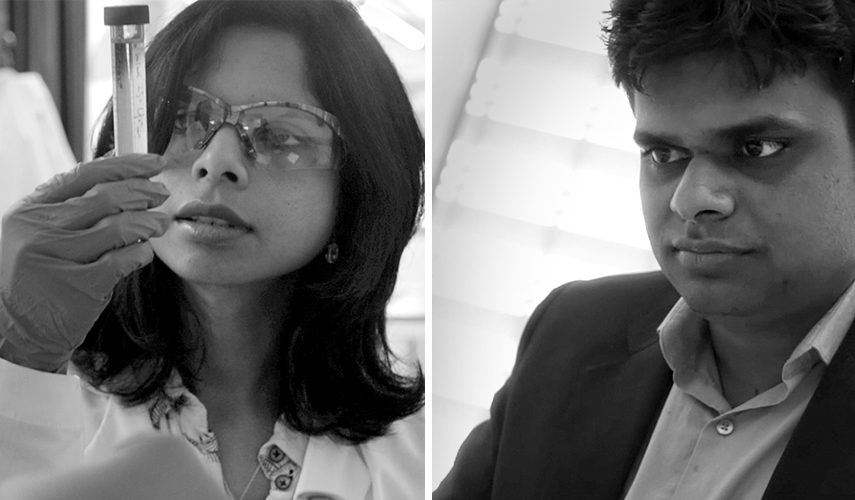 "This is a great honor for me and my entire research group whose work on electrification of road transport and aviation is among the most important societal challenges facing us today," said Viswanathan.
His newest project involves developing batteries powerful enough to propel an electric plane through the air. The project is in collaboration with NASA Ames, Glenn and Armstrong Flight Research Center. More than 25 students and postdoctoral researchers work in his lab, where he has connections with Watt Fuel Cell, Bosch RTC, and Eaton Corporation. His other research projects include work with lithium-air batteries and he has been cited in the media numerous times on battery applications.
Assistant Professor Reeja Jayan directs the Far-from-Equilibrium Materials Laboratory at Carnegie Mellon. Her multidisciplinary lab studies how processing using electromagnetic fields can disrupt the traditional "equilibrium" structure and the behavior or properties of materials.
Proud of @CMUEngineering faculty and @PittsburghMag #40under40 honorees @venkvis & @b_reeja! pic.twitter.com/obXN4OM1jS

— Dean James Garrett (@James_H_Garrett) November 4, 2017
Jayan also supports game-based learning in the classroom to create a higher level of student engagement and a more stimulating learning environment. She recently used the game of Minecraft to teach upper-level engineering students about materials science principles and how to visualize complex concepts.
"A specific focus of my game-based teaching program at CMU is that games like Minecraft can attract women and underrepresented minority groups to STEM careers," said Jayan. "It also reaches a broader spectrum of learners in classrooms and addresses the challenge of broadening participation in high-tech fields like materials processing and manufacturing."
I am excited to use my multidisciplinary research and teaching at CMU to prepare a new generation of diverse, motivated, and talented engineers.

Reeja Jayan, Assistant Professor, Mechanical Engineering, Carnegie Mellon University
Part of Jayan's creativity and passion comes from tackling complex problems, even those from her own life. When diagnosed with celiac disease while finishing her Ph.D., Jayan didn't let it overtake her. Instead it inspired her to find a material that could sense gluten proteins in foods. That multidisciplinary vision for problem solving permeates her research. Jayan has won the Young Investigator Awards from the Air Force Office of Scientific Research (AFOSR) and the Army Research Office (ARO) for her far-from-equilibrium materials engineering research program. Some of these materials could find eventual use in her sensors.
"Pittsburgh is a city that is continuously reinventing itself by pursuing new ideas and technology," said Jayan. "I am excited to use my multidisciplinary research and teaching at CMU to prepare a new generation of diverse, motivated, and talented engineers to contribute to this vision. I am very thankful for this recognition."
The honorees were recognized on November 3, 2017 at an event held at Rivers Casino. Congratulations to Jayan, Viswanathan, and all of the 2017 nominees!