Ian Suzuki and Joanna Baranowski team up with the Pittsburgh Penguins and Covestro to "Rethink the Rink" with a focus on making goalies' helmets safer.
Ian Suzuki has eclectic interests. As a senior double majoring in mechanical engineering and biomedical engineering, he is learning how to quantify the physics of how our bodies move and how they can be injured. His ultimate ambition is to apply technology to improve the quality of our lives and make things safer. And this ambition dovetails nicely with Suzuki's other interest: hockey.
Suzuki has been playing hockey since he was 10 years old, and that's why he didn't hesitate to sign up for "Rethink the Rink," an initiative launched by the Pittsburgh Penguins, high-tech polymers producer Covestro, and Carnegie Mellon College of Engineering to advance safety innovations in hockey. In 2018, a weeklong make-a-thon was held on campus, where students worked to redesign rink dasher boards and glass.
"I was a sophomore at the time," says Suzuki, "and the Rethink the Rink make-a-thon was the first opportunity I had to bring concepts that I had learned in my books and apply them to industry."
Suzuki was itching to work on a sports-centric industry project, and he wasn't alone. Joanna Baranowski, a current senior in chemical engineering and a member of the CMU women's track and field team, signed up, too.
This first-of-its-kind collaboration between these sport, industry, and education giants proved so successful, that Rethink the Rink was reinstituted in 2019, only this time with a focus on making goalies' helmets safer. Suzuki and Baranowski enlisted again.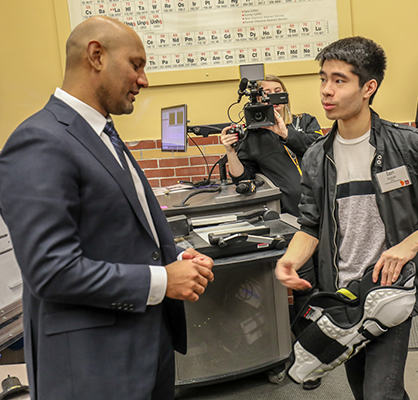 Because the Penguins players preferred the look of their old helmets, Baranowski's team had to minimize the change in the helmet's appearance while still improving its safety. They decided to reduce the impact force on the goalie's head by adjusting the fastening between the cage and the shell. After modeling the helmet, they simulated collisions, and ran tests on the helmet to develop the best design solution.
As a chemical engineering student, Baranowski was challenged to think like a mechanical engineer. She learned to use Solid Works, a three-dimensional modeling program.
Though she did not have previous training, Baranowski quickly became a pro at Solid Works, and modeled four completely different helmets.
"There have been a couple of times in school when they told us to use a program to produce something, and none of us knew how to do it," said Baranowski. "CMU has taught me to learn something quickly—how to pick up something and do it fast and right."
Suzuki and Baranowski were so engaged in their work that Covestro offered them summer internships, so they could continue work on their projects. Throughout their internships, the students consulted with technical experts, which broadened their engineering experience and professional contacts.
"Rethink the Rink was one of my most beneficial experiences at Carnegie Mellon," says Suzuki. "Having access to all the resources on campus and in the maker spaces was really helpful for developing proof of concept for our designs. I got to merge my passions—hockey and engineering. The projects I worked on felt tangible and they opened my eyes to how engineering can be applied in sports."