CMU-Africa students are making an impact.
Sylvia Makario
For alumna Sylvia Makario, graduation was just like any other day. After spending two years pursuing a Master of Science in Information Technology at one of the most prestigious technology universities on the African continent, Makario took the weekend after graduation to relax. But by the following Monday, she had already launched her own company.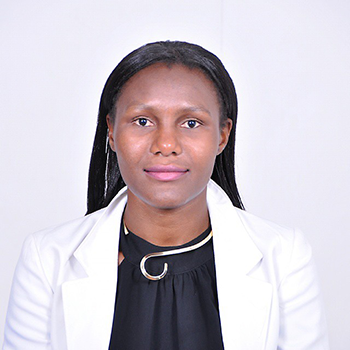 "I currently run a company, Hepta Analytics, which I co-founded with six other CMU-Africa graduates, and two other members from Rwanda and Tanzania respectively," Makario says. "The experience has been nothing short of fulfilling, filled with many lessons that serve as a backdrop for many of my everyday decisions."
Hepta Analytics is a big data and cloud computing company, whose main focus is to develop Africa-centric products with the goal of solving the continent's inefficiencies in the data and infrastructure space. This desire to contribute to the economic growth of Africa, and to leave a mark on the next generation, was one of the primary values that the CMU-Africa program instilled in her and the other members of her cohort.
"The program was intense and yet so eye-opening," she says. "My time was underpinned with several experiences, the most important of which being my time spent around a group of young Africans from different countries across the continent. There was always a story to learn from, and lessons to carry forward. The camaraderie and the need to improve the lives of those aro to me."
Paul Buchana
Upon enrolling into the CMU-Africa program, alumnus Paul Buchana (pictured top of page) could see that it was unlike any other program on the continent. Yes, it gave him the tools he needed to succeed as a data scientist—but it was much more than that.
"It quickly became apparent to me," he says, "that I was part of the global CMU community, and that what I was studying here in Rwanda was the same as what my classmates were studying over in Pittsburgh and Silicon Valley. Looking at the curriculum and the list of options from which I could choose, I knew this was an education for the future and that it was going to be applicable for decades to come."
Upon graduating, Buchana went to work for a private equity firm, eventually establishing and leading their data science division. But thanks to his CMU-Africa education, the entrepreneurial bug eventually took hold, and he left the firm to start his own company, Datum Labs, which focuses on innovating in the field of data science and machine learning to help their clients improve their business processes.
"The program gave me the tools I needed to succeed as a data scientist," he says, "and I work every day hoping that what I do in trying to solve a plethora of problems leaves lasting, significant impact."
Josephine Nyiranzeyimana
Josephine Nyiranzeyimana is contributing to the digital transformation of Rwanda one step at a time—but it wasn't an easy path for her to get there. Nyiranzeyimana started as a student in the Information Technology master's program at CMU-Africa, and it was the intensity of that program, she says, that really set her up for success.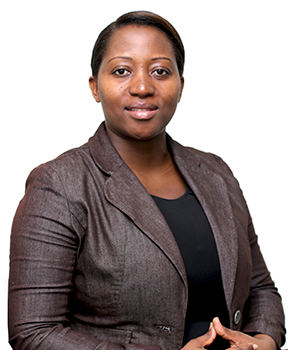 "The program was like nothing I could have imagined," she says. "It was rigorous and constantly challenging, but really the best. I'm so thankful to the Government of Rwanda and Carnegie Mellon for making it possible."
Immediately after completing her master's program, she began her wide-sweeping immersion into one of the most thriving and forward-looking industries in the country—Information and Communication Technologies (ICT). Since then, she has made her mark working in academia, the private sector (Intel Corporation), and non-government organizations, before finally settling into her current position as the Government Chief Information Officer with the Rwanda Information Society Authority (RISA). Established in 2017, RISA is a government institution aimed at increasing usage of ICT in the country to accelerate the development of the economy and other sectors.
"My time at CMU helped me discover my personal potential and how much I could do with the 24 hours in every day," Nyiranzeyimana says. "It taught me not to be comfortable with the status quo, but to always challenge myself for the better—there is always room for improvement."