NSF recognizes up-and-coming faculty
Four Carnegie Mellon Engineering professors have received The National Science Foundation's Early Career Development Award (CAREER) so far this year.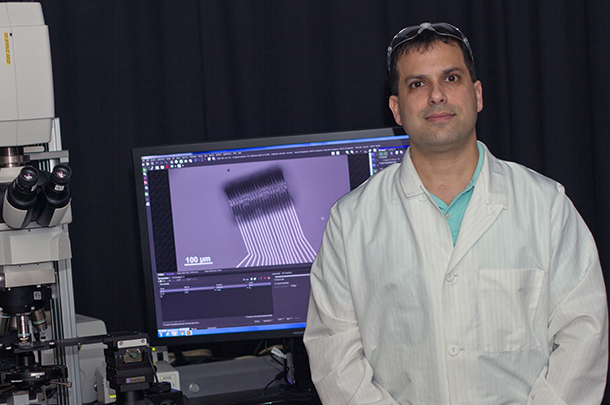 Cohen-Karni receives grant to monitor electrical activity of cells in three dimensions
By Alexandra George
Knowledge of how cells communicate with each other has been constrained, in part because the electrical activity of cells has been limited to simple, 2-D measurements. However, that may change soon.
Tzahi Cohen-Karni, an assistant professor of Biomedical Engineering and Materials Science and Engineering, received an NSF CAREER award to develop nanosensors to monitor the electrical activity of cells in three dimensions.
"We, as humans, are not two-dimensional," said Cohen-Karni. "When you culture cells in a dish, it is not as they are organized in nature. We are trying to measure the electrophysiology of a cellular arrangement that is closer to the way it is in nature."
Traditionally, cells are cultured on a 2-D flat surface where researchers cannot get a full sense of the electrical activity happening in a close to natural 3-D geometry. Cohen-Karni's technique surrounds the 3-D cell construct with sensors, and monitors it from all sides.
This project has huge long-term implications. In the biological field, heart cells, or cardiomyocytes, serve as a potential therapy for heart defects and conditions. Monitoring these cells in 3-D will provide more insight into the way cells really communicate.
"When it comes to the heart and the brain," said Cohen-Karni, "whatever we do is due to this intracellular communication. To some extent, we know what is happening inside. But having the tools to explore it in a quasi-controlled manner will help us to understand exactly how they talk to each other."
Cohen-Karni's device will monitor the electrophysiology of induced pluripotent cells derived cardiomyocytes (iPS-CM). In the future, the platform will be able to compare the electrical activity of normal heart or brain cells with that of diseased cells.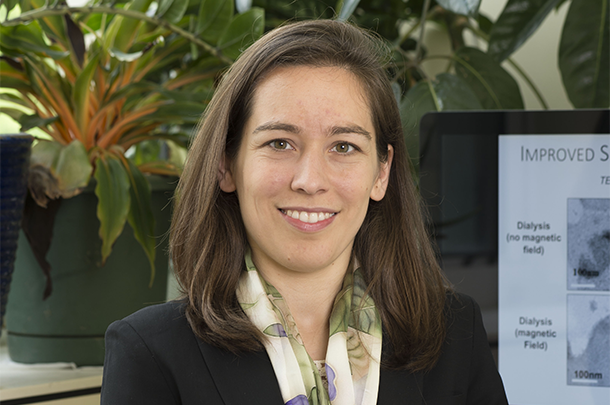 Monitor will curb power plant pollutants
By Emily Durham
Meagan Mauter, an assistant professor of Civil & Environmental Engineering and Engineering & Public Policy, will use her five-year CAREER award to reduce air and water pollutant emissions from power plants.
"Much of our electricity generation infrastructure was built in an earlier era when air, water, and CO2 emissions were not tightly regulated," Mauter explains. "In the past decade, we have developed a much greater understanding of the human health and environmental costs of these emissions, and regulatory agencies have responded with strict new limits on emissions from coal-fired power plants."
Mauter's CAREER research will build upon and unify her past research topics, which include studying waste heat driven water treatment processes, investigating the limitations of these processes, and looking at tradeoffs between air and water emissions at these power plants.
The project, titled "Integrated water, energy, and emissions decision making for a low-carbon future with coal-fired power plants," will develop decision support tools to help re-design coal-fired power plants to cost-effectively reduce emissions.
"Helping power plants to more efficiently treat water emissions will reduce the auxiliary power consumption and associated air emissions from running water treatment processes," says Mauter. "Avoiding these tradeoffs in air and water emissions will reduce the human health and environmental consequences of electricity production from coal-fired power plants as we transition to a low-carbon electricity generation mix."
The award will also fund the development and characterization of new materials used in waste heat-driven processes, as well as allow Mauter to include high school students in the collection and interpretation of data on the environmental impacts of water emissions from power plants.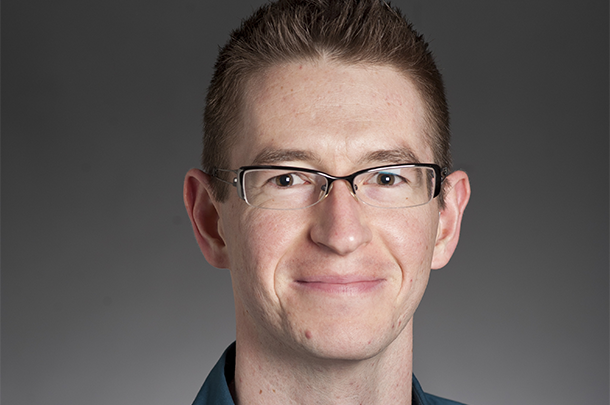 Two mechanical engineers earn career awards
By Lisa Kulick
Ryan Sullivan, an assistant professor of Mechanical Engineering and Chemistry, was awarded a five-year CAREER grant to study the effects of chemical aging on the ice nucleation properties of natural and anthropogenic atmospheric particles.
His research will improve our understanding of how air pollutants alter the ability of atmospheric particles to cause clouds to freeze. Glaciated clouds are the major source of precipitation over land, yet we lack a detailed understanding of the sources and behavior of these rare ice nuclei in the atmosphere. (Read more about Sullivan's work in the article "Ice from Flame.")
The grant will support educational modules for K-12 teachers to introduce students to the chemical science and measurement of air pollution, acid rain, and cloud forming reactions.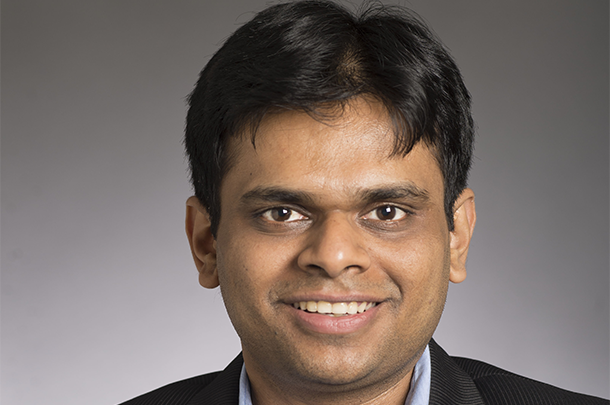 Venkat Viswanathan, an assistant professor of Mechanical Engineering, was awarded a five-year CAREER grant to study engineering electrode-electrolyte interfaces through electrolyte selection for improved performance in lithium-air batteries and fuel cell electrocatalysis.
Because the mass-market adoption of environmentally-friendly electric vehicles requires significant improvements to battery technology, Viswanathan seeks to improve discharge capacity and rechargeability in lithium-air batteries. His findings could have an impact on other metal-air battery technologies such as sodium-air, magnesium-air, and potassium-air.
His grant will support his statistical thermodynamics massive open online course (MOOC) with 3-D printed learning kits.