Real World Engineering Silicon Valley
Students on the Silicon Valley program get a first-hand look at engineering in the epicenter of innovation. During this trip, students learn about unique career paths they can pursue with an engineering degree by visiting multiple company sites and networking with their engineers and campus recruiters. Students will also visit and learn about the opportunities available to them at the Carnegie Mellon University Silicon Valley campus, which offers the 5th year master's program to ECE students.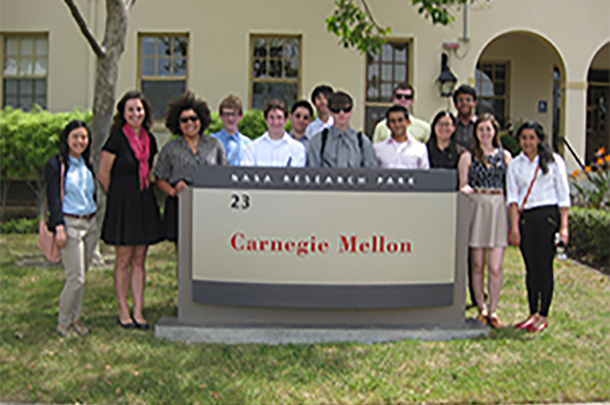 Who: This experience is for undergraduate students in the College of Engineering.
Where: Students have visited the following company sites:
Google
Box
Intel
OnLivel
Tesla
Backplane
Apple
NVIDIA

NetApp
ProofPoint
RelateIQ
Ruckus Wireless
ANSYS
San Disk
Plug and Play
Palantir
Electronic Arts
When: RWE Silicon Valley typically runs in the spring.
How: Applications are not currently open for this program.
It's more than a trip that helps us know a bunch of companies. It's generally helpful in improving social skills, learning the importance of our education, and how we can better prepare from where we stand in college.

RWE Silicon Valley participant
Here's what a few RWE SV students said:
"It's more than a trip that helps us know a bunch of companies. It's generally helpful in improving social skills, learning the importance of our education, and how we can better prepare from where we stand in college."
"It gave me the opportunity to speak with engineers and managers at Silicon Valley companies and learn what skills I must develop to become a part of their companies."
"It was very interesting to see how the engineers' jobs varied according to the type of company. For example, in a very small company like Backplane, it was more important to have a big picture understanding and pick up whatever new tools were necessary for possibly unforeseen problems/developments whereas in large established companies like Intel, the job seems a lot more well-defined and specialized."