Real World Engineering Pittsburgh
Pittsburgh was the inaugural city for the Real World Engineering program for several reasons. It is an economically strong city that offers exciting jobs for engineers and has a strong alumni base that is well connected to local industry. Carnegie Mellon students benefit by tapping into this influential and supportive community. Another reason Pittsburgh is part of the program is to expose students to the great resources that exist in their own backyard.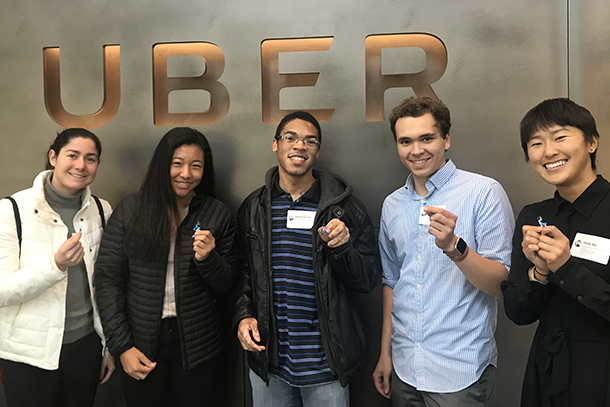 Who: This program is open to all undergraduate College of Engineering students.
Where: Partner companies will host small groups of students for site visits, tours, and information sessions. Previous students have visited the following companies:
ANSYS
Covestro
Bossa Nova
US Steel
PA Dept. of Environmental Protection
Kurt J. Lesker Co.
Disruptive Robotics
PPG
Redzone
Carmell Therapeutics
Calgon Carbon
Alcosan
Mylan

Bayer
Google
4Moms
Astrobotic
SolePower
RAND
PECA Labs
NetApp
ActiveAided Orthotics
Gannett Fleming
Aquion
Voci Technologies
PNC Bank
When: Spring 2023
How: Applications are now closed for Spring 2023. 
Questions can be directed to citundergradoffice@cmu.edu.
Classroom experience is valuable, but nothing compares to seeing and experiencing what engineering is like in the real world. I can't think of anyone in any field who wouldn't benefit from a program like this.

RWE Pittsburgh Participant
Here's what a few RWE Pittsburgh students have said:
"The program gave me broad exposure to professionals from different fields and workplaces, so it helped inform me about potential career paths. The program also gave me valuable practice with operating in the professional world, as far as researching background information, presenting myself, connecting through conversation, and maintaining connections."
"Classroom experience is valuable, but nothing compares to seeing and experiencing what engineering is like in the real world. I can't think of anyone in any field who wouldn't benefit from a program like this."
"Observing applications of various types of engineering increased my confidence in my choice of major; the industries and research topics that I found most interesting were related to applications of materials science. I do not have a definite idea of what career path I want to go in, but the insight I gained will help me make a more informed decision."