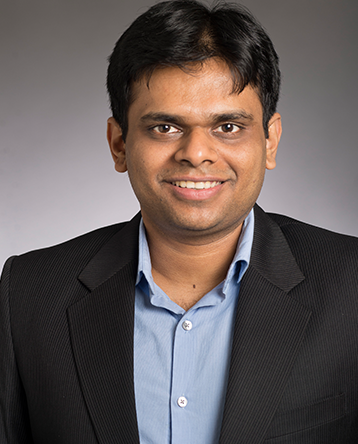 Venkat Viswanathan is an associate professor in the Department of Mechanical Engineering at Carnegie Mellon University. Viswanathan's research focus is on identifying the scientific principles governing material design, inorganic, organic, and biomaterials, for novel energy conversion and storage routes. The material design is carried out through a suite of computational methods being developed in his group, and validated by experiments. Some key research thrusts include identifying principles of electrolytes design (organic material) that can tune electrode catalysis, identification of new anode, cathode (inorganic materials), and electrolyte materials for next generation batteries, and new electrocatalysts (inorganic) and biomaterials for energy storage and separation applications. In addition to material design, his group is involved in several cross-cutting areas such as battery controls, electric vehicle security, and GPU accelerated computing.
Viswanathan received the Office of Naval Research Young Investigator Award in 2019, Sloan Research Fellowship in Chemistry in 2018, the National Science Foundation CAREER award in 2016, the American Chemical Society PRF Young Investigator Award in 2014, and the Electrochemical Society Daniel Cubicciotti Award in 2010. He was a finalist for MIT TR Innovators Under 35 in 2014, and was an Electrochemical Society Herbert H. Uhligh Summer Fellow in 2009.
Energy Density in Batteries: Accelerating the Timeline
Electrolyte Technology: Batteries for Electric Vehicles
Education
2013 Ph.D., Mechanical Engineering, Stanford University
2008 BS, Mechanical Engineering, Indian Institute of Technology, Madras
Affiliations
Media mentions
Bloomberg
Viswanathan on autonomous, electric cars
MechE's Venkat Viswanathan spoke with Bloomberg about the current debate between the two most prominent technologies in the car industry: autonomous driving and electric cars. "We're getting to a point where we won't need to choose between autonomous driving and electric cars," he said.
Zhang places in CAST competition
MSE's Yumin Zhang won third place in the CAST Innovation & Entrepreneurship Competition at the 2019 Global Innovation Summit, which took place on October 11-13 in Pittsburgh.